Active Worlds access free in 3D world AW
1* Download this little software : > AW 4.1 <
2* When it's install on your computer.
3* you go to AW gate.
4* you will see an icon " advanced mode " activate it.
5* on left top you will find " Teleport " (image).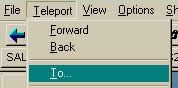 click on" To "
6* Write in " Allusion " and ok.
You will be on the world Allusion :)
You will load objects and textures of this world, be patient for load at the first time, the next time you will have already all the files in your computer.
7* Then go back to " Teleport " ( image).
and click on " Make This My Home "
Now you don't have to do it again, you will arrive directly on Allusion :)
If you are in directx, I advise you to activate directx and hardware in video parameters of this program, you wil have best rapidity and quality for you billsticking.
welcome on Allusion .

Other teleport (clic )